What additional features do I get if I upgrade from the Team Edition?
These features are available as standard in the Workgroup and Enterprise Editions of Glasscubes.
Upgrade your account now and get all of these additional features for just £25 extra per month. More info
Dashboard & Account Customisation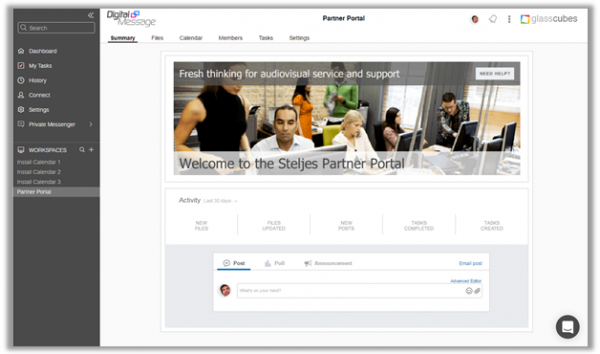 Make it your own! Whether Glasscubes is used by your colleagues, customers or partners, we understand the importance of promoting your brand and realise that it should be reflected in everything you do. That's why we've built in the ability to quickly customise and brand your account as your own.
Use our simple, built in editor and easily customise your dashboard without any technical knowledge. More info 
Project Management
This suite of project management tools give you everything that's needed to manage even the most complex projects, with ease.
The addition of project milestones, task dependencies, critical path analysis and Gantt charts all help to make sure that your project stays on track and is completed on time. More info
Shared Contact Directory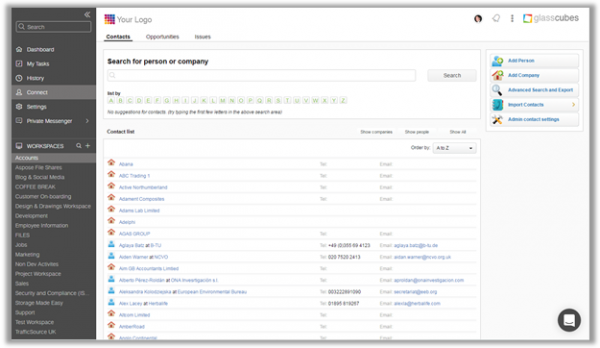 Connect is the Glasscubes contact directory. It's the perfect place to centrally store and share contact information that everyone needs. Use it as a simple directory for internal contact information, or as a shared directory for your clients, suppliers and partners. It also allows you to log and share email communications and is fully integrated with the Glasscubes task management functionality. More info 
Private Messenger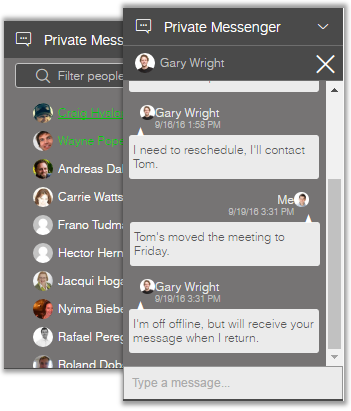 Do you want to collaborate in real time?
Here's the perfect tool to ask questions, make arrangements or send updates. Don't waste your time on phone calls, emailing or setting up meetings. Instant chat gets you the information that you need immediately. If your colleagues are offline, the message will be waiting for them when they next login. More info
Team Permissions
Are you a Glasscubes Administrator that's managing a growing number of users?
Arranging users into teams will make things much easier for you and your users. Teams allow you to assign and manage permissions, to the group as a whole. It also gives your users a quick way of notifying a group with a single click.
Organise your teams by role/department/function or into any group of users that share the same permission levels. More info
Workspace Customisation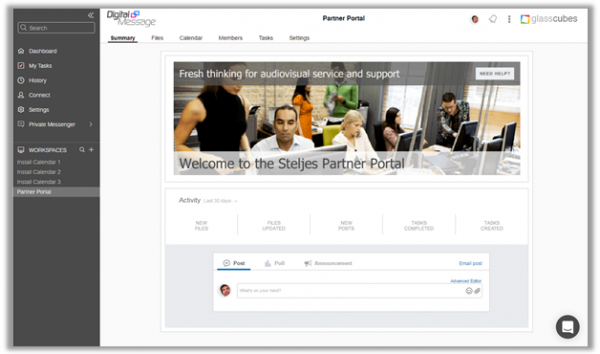 Do you want to create branded extranet portals?
Easily customise your workspaces, it's a great way to give them a distinct look and feel, and perfect if you want to brand extranet portals for clients or partners.  You can add images, links, a welcome message and contact details, in fact anything that makes it instantly recognisable and informative to users. More info
Archive Workspaces
Do you have any workspaces that you don't use anymore?
Instead of deleting them, why not archive and retain the information so that you can easily reinstate the content if it needs to be referred to sometime in the future. More info
File & Folder Permissions
Do you want to restrict access to individual files and folders by user or team?
Workspace members are assigned permissions to all files and folders when they are invited to join a workspace. Workspace Owners and Administrators can then restrict access to individual files and folders to specific users and teams. More info
Dashboard News Feed
The dashboard's 'News Feed' is the perfect place to add your company's news and updates. Old articles are archived and can easily be accessed for reference by all members. More info
Other benefits
In addition to the features above the Workgroup Edition of Glasscubes also offers you unlimited workspaces and an individual file upload size of 10Gb.