The 'Task Settings' section can be found at the bottom of the workspace 'Options' page. You decide which views to display in the workspace; we strongly recommend removing any views that won't be used.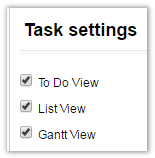 Automatic work-day correction

Set-up your working days before creating your project. The Gantt chart will then automatically make adjustments taking your working days into account; making it easy to accurately schedule projects within tight time scales.
IMPORTANT: We recommend making these adjustments before adding tasks to your workspace. Any tasks that are added before selecting 'Automatic work-day correction' will not be adjusted automatically.